How it work couponbytes
How we pay you
Payments
Term and Conditions
Privacy Policy
How it work couponbytes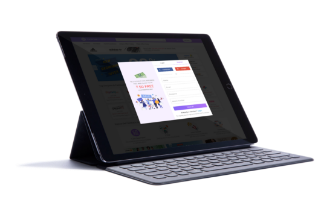 1
SIGNUP / LOGIN TO COUPONBYTES
In order to start enjoying your shopping, you will need to Sign up into Couponbytes.( Get 100 Reward Points for your successful Sign up- For all New Users)
After sign up, log in to your account with your user Id and password.
Note:
Cashback is only for orders placed by the registered users.
Never share your user credentials to anyone.
2
EXPLORE & PICK DEALS FROM YOUR FAVORITE SITES
Explore all the offers and deals in Couponbytes
Click on your favorite deal that you wish to avail.
Click Get this deal button, it will redirect you to that respective site.
Note : To earn cashback, please ensure that you get redirected to the store only via the Couponbytes link and make your purchase.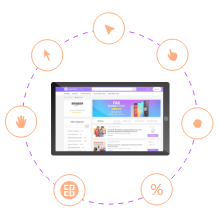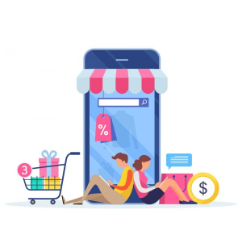 3
PURCHASE IN THE RESPECTIVE RETAILER'S SITE
Select the product(s) that you wish to buy.
Use the Coupon code if it is given, else proceed as usual.
Proceed with your payment as per the usual procedure
Ensure you receive a confirmation message / mail for placing your order successfully.
4
GET YOUR CASHBACK AUTOMATICALLY
Your Cashback /Reward will be automatically added into your Couponbytes account.
You can track the same in your Couponbytes account anytime.
Couponbytes Cashback will get track within 15 minutes from order confirmed by the merchant.
It will be reflected in your Couponbytes account in pending status.
It will take 48-90 working days for the merchant to confirm the order cashback eligibility, and to make the cashback state available. Till that your cashback will be in pending status.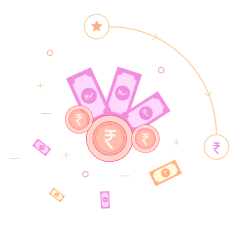 5
EARN PAID CASHBACK TO YOUR BANK ACCOUNT
You can always transfer your money to your Bank Account.
Note:
You can track your cashback status in the "OVERVIEW" section once you login to your Couponbytes account
You should have a minimum of Rs 500 in available cashback to give cashout request. Once You reaches Rs.500 you can sure transfer it into your bank account.
------ Get Paid To Shop Online. It's as simple as that! -----------
HOW WE PAY YOU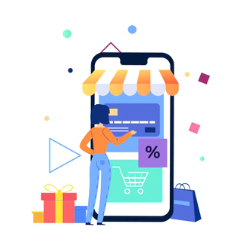 1
SHOP FROM YOUR FAVOURITE STORE VIA COUPONBYTES
In order to start enjoying your shopping, you will need to Sign up into Couponbytes. After sign up, log in to your account with your user Id and password.
Note: Make sure you have logged in to avail the offer
2
Avail your Cashback
Explore all the offers and deals on your favorite online stores in Couponbytes. Click on your preferred deal that you wish to avail. Make your purchase and earn your cashback.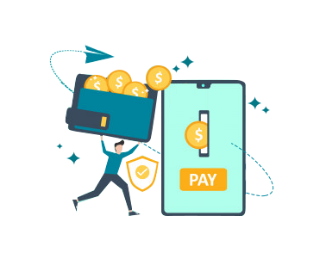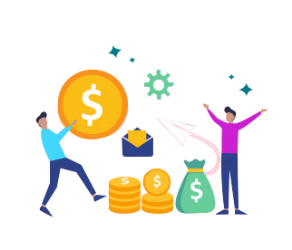 3
Cashback Approval
Your Cashback will be automatically added into your Couponbytes account. Couponbytes Cashback will get track within 15 minutes from order confirmed by the merchant. The cashback has to be validated by the merchant and it is approved only when the order is successful.
Note: It might take 48-90 days to confirm your cashback by the merchant.
4
Cashback Process
Till the merchant confirm the Cashback will be in "Pending "status and once it's confirmed your cashback will appear in available cashback.
Note: You can track your cashback status in the "OVERVIEW" section once you login to your Couponbytes account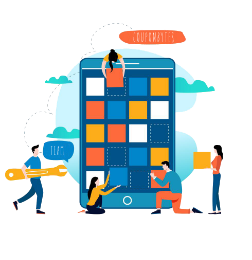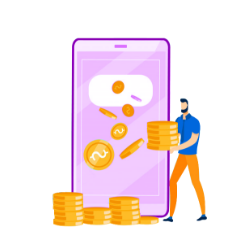 5
Redeem your Cashback
Once the Cashback moves to "available" status, you can make the Cashout request. Your Cashback will be credited to your Bank Account only.
Note: You should have a minimum of Rs 500 in available cashback to give cashout request.
Payments
ONLINE PAYMENT
In order to facilitate payments for deals/ Coupons purchased by You through Website, CouponBytes offers an online payment gateway facility that will facilitate You to make payments in respect thereof to CouponBytes using netbanking, credit/debit card account or any other mode acceptable and made available to the users, subject to your complete acceptance and adherence to the terms and conditions of the website of the payment gateway service providers.
DEBIT/ CREDIT CARD DETAILS
You agree, understand and confirm that the credit/debit card details provided by You for making payments for deals/ Coupons purchased through Website, either through the on-line payment gateway will be accurate and complete. You shall not use the credit card/ debit card or any other bank account which is not lawfully owned by you. Any information provided by you will not be shared by CouponBytes with any of the third parties unless required by law, regulation or court order or for facilitating and completing the purchases made by you. We will not be responsible for any financial loss, inconvenience or mental agony resulting from misuse of your ID/password/credit card number/account details in anyway.
TERMS & Conditions
USER AGREEMENT :
The Terms of use comprise a legal binding agreement between the Company and you. Regarding your use of the web site (www.couponBytes.com) and the services that are offered by the company by accessing the Site or Service and/or by clicking "I agree", you agree to be bound by the company's Terms. You agree to register prior to comment or upload any content or any other use or services of this site and to provide your details like complete name, age, email address, residential address, contact number which will be confidential.
You accept the CouponBytes Terms of Use, Privacy Policy and other Site policies by clicking the "Signup/ Login/Register/Join" button while registering and logging into the Site, also while accessing or using Site, services, applications, and tools provided in the site.
You hereby stand for and guarantee to the Company that you are at least eighteen (18) years of age or above and are capable of entering, performing and adhering to these Terms and that you agree to be bound by the following terms and conditions. For individuals under the age of 18 can avail the Service of the site, they shall do so only with the involvement & guidance of their parents and / or legal guardians, under theirs registered account.
You are supposed to read this Agreement carefully and you are advised to regularly check for any updates or amendments to the terms and conditions from time to time. CouponBytes have all rights to add or change or update these Terms of Use, from time to time entirely at its own discretion. It is your responsibility to check these Terms of Use periodically to remain in compliance with these terms. Any clause of our terms and conditions, if considered to be invalid, void or any reason unenforceable, shall be deemed severable.
ONLINE PURCHASES :
CouponBytes acts as a facilitator for all sale and commercial / contractual terms that are offered by and agreed to between buyers and sellers. The commercial / contractual terms include without limitation price, shipping costs, date, period, mode of delivery, warranties related to products and services including after sales services related to products, etc., over which the seller has complete control and the same may be subject to change at any time.
Once a User chooses their deal through the Website, then they are automatically redirected to the concerned Merchant's website where the User can purchase the products on which the offer is applicable. This is reflected in the User's account on CouponBytes once the purchase is confirmed by the merchant.
CouponBytes always reserves the right to terminate any or all the past, pending and future orders including cashback(s) of the user(s), at its sole discretion without any notice.
CASHBACK/ COUPONS :
Providing of cash back is solely dependent on confirmation of the purchase by the Merchant.
You hereby acknowledge and agree that in case of failure of confirmation of a purchase by a Merchant or nonpayment of commission by the Merchant to CouponBytes, also CouponBytes may refuse to credit any form of cash back to User Account.
CouponBytes also reserves the right to cancel pending/ confirmed/earned cashback, withdrawal requests or withhold payments indefinitely if we detect unscrupulous activity, fraud (including self-referral) or bulk purchases made by the user. We reserve the right to reduce or remove the available amount in your account without any prior notice, based on our sole discretion. We may also add an expiry date to the earned cashback and bonus without any prior notice, and reduce or remove the available amount if you do not utilize it before the expiry date.
Entitlement to Encash:
You cannot withdraw cash from your Couponbytes Account. However, you can always encash it. In order to transfer it to your Bank Account/ Gift Card, a minimum amount of Rs.500/- is required.
Note: There is a nominal processing fee for every transaction as below:
2% for Bank transfer
4% for Gift Card
THE AGREEMENT BETWEEN COUPONBYTES AND YOU IS SUBJECT TO THE FOLLOWING TERMS AND CONDITIONS:
By using the services of CouponBytes you agree to be bound by the Terms and Conditions. The terms and conditions succeed all previous representations, understandings, or agreements. In spite of any variance with any other terms of any order submitted or your login through other group or related ID shall overcome.
The User certifies that he/she is at least 18 (eighteen) years of age.
All prices, unless indicated otherwise are in Indian Rupees.
The User agrees to provide authentic and true information. CouponBytes reserves the right to confirm and validate the information and other details provided by the User at any point of time. If upon confirmation such User details are found to be false then CouponBytes shall in its sole discretion reject the registration and debar the User from using the Services available on its Website without prior intimation whatsoever.
The User agrees not to make any bulk purchase to indulge into any reseller activities. In case of any such instances, CouponBytes reserves all rights to cancel the current and future orders and block the concerned User account.
While making a credit card transaction, you must use your own credit card. CouponBytes will not be liable for any credit card fraud. The liability to use a card fraudulently will be on the user and the onus to 'prove otherwise' shall be exclusively on the user. To provide a safe and secure shopping experience, we regularly monitor transactions for fraudulent activity. In the event of detecting any suspicious activity, we reserve the right to cancel all past, pending and future orders without any liability.
CouponBytes is neither responsible for any non-performance or breach of any contract entered into between Users nor make any representation or Warranty as to the attributes (such as quality, worth, marketability, etc.) of the products or services proposed to be sold or offered to be sold by the seller or purchased by the buyer, on the Website.
By indicating User's acceptance to purchase any product or service offered on the site, user is compelled to complete such transactions after making payment. Users shall forbid from indicating its acceptance to purchase products and services where it does not intend to complete such transactions.
You are advised to independently verify the bona fides of any particular Deal/ coupons that you choose to buy with on the Website and use your best judgment in that behalf. CouponBytes do not accept liability for any errors or omissions, whether on behalf of itself or its channel partners/ Sellers or third parties.
CouponBytes will not be responsible for any damage suffered by users from use of the services on this site. This includes non-deliveries, missed deliveries, or service interruptions as may occur because of any act / omission of parties.
Cancellation on user's request may not be allowed, subject to the specific terms and conditions applicable to the type of product or service purchased. Failure/ denial by a channel partner to honor the deal/ Coupon or coupon code not working in case of online coupons needs to be reported within 24 hrs of the purchase of the deal/ coupon.
CouponBytes reserves the right to send transactional emails and SMS's related to any order placed by a User and the User agrees that the same will not tantamount to spam. By submitting your mobile number, you agree to receive calls/SMS's from CouponBytes or its authorized representative, irrespective of your registration on Do Not Disturb (DND) with your telecom service provider.
CouponBytes reserves the right to discontinue the Cashback(s) offer without assigning any reason or without any prior intimation whatsoever. Also, CouponBytes reserves the right to change all or any of the terms of applicable to Cashback(s), Coupon(s), offer(s) without assigning any reason or without any intimation whatsoever to User. Further,
CouponBytes accepts no liability for any errors or omissions, whether on behalf of itself or third parties. Also, CouponBytes shall not be responsible and shall not be responsible for any non-performance or breach of any contract entered into between Users.
REGISTRATION :
Registration of the User on the Website is Mandatory. The User agrees and undertakes at all times to be responsible for maintaining the confidentiality of the password and user id, and shall be fully responsible for all actions that occur by use of such password or user id. The User should not use any other party's under ID and Password for any purpose whatsoever without proper authorization from such party. User are responsible for the security of their username, password and for all transactions undertaken using User's password through our service.
REVIEWS, COMMENTS AND OTHER USER CONTENT :
CouponBytes have the right to upload content on behalf of third parties, subsequent to collect such information and verifying it if necessary. We can in no way be held liable for any false or misleading information.
The content that you upload or post will become our property and you grant us the worldwide, perpetual and transferable rights in such Content. We reserve the right to edit or remove any material submitted to this Website, or stored on Our servers, or hosted or published upon this Website.
Users of CouponBytes may post reviews, comments and other content; as long as the content is not illegal, obscene, abusive, threatening, & defamatory and does not consist of or contain software viruses, political campaigning, commercial solicitation, mass mailings, or any form of "spam". In case a User uses a false e-mail address, impersonates any person or entity, or otherwise misleads as to the origin of any content, we have the right to remove, refuse, delete or edit any content that violates these Conditions of use and, or terminate your permission to access or use our website.
MISCELLANEOUS :
CouponBytes always reserve the right to change these Terms of Service at any time in its discretion. Your continued use of the Website after the posting of any amended Terms of Service shall constitute your agreement to be bound by any such changes. We may change, suspend, discontinue or restrict the use of any portion, including the availability of any portion of the content at any time, without notice or liability. We may deny access to any person or user at any time for any reason. In addition, we may at any time transfer rights and obligations under this Agreement to any affiliate, subsidiary or business unit, or any of their affiliated companies or divisions, or any entity that acquires the Company or any of their assets.
Privacy Policy
COMMUNICATION :
CouponBytes reserves the right to communicate with users regarding the use of site or any product or service purchased on this site, or any of our subsidiary products or services. This communication can be through different media (e.g. e-mails, promotional SMS, Push Notifications etc.)
When you use the Website or send emails or other data, information or communication to us, you agree and understand that you are communicating with us through electronic records and you consent to receive communications via electronic records from us periodically and as and when required. We may communicate with you by email or by such other mode of communication, electronic or otherwise.
THE USE OF EMAIL :
In order to keep you informed of your activities on (www.couponBytes.com) we occasionally send you emails. These include your transaction emails to show how much you have earned, referral emails that show you how much you have earned from referrals, payment confirmations for payments to you and, important administrative emails and emails to confirm your activities on the website. These emails are not shared with anyone else apart from you.
We do not support spamming by our members and we explicitly prohibit it in our Terms & Conditions. If you would like to report an incident of spamming, please contact us so we can investigate and take suitable action.
INFORMATION SHARING
We at CouponBytes share the sensitive personal information to any third party without obtaining the prior consent of the User in the following limited circumstances:
CouponBytes proposes to share such information within its group companies and officers and employees of such group companies for the purpose of processing personal information on its behalf.
For the purpose of verification of identity, or for the prevention, detection, investigation including cyber incidents, or for prosecution and punishment of offences that has been requested or required by law or by any court or governmental agency or authority to disclose. These disclosures are made in good faith and belief that such disclosure is reasonably necessary for enforcing these Terms; for complying with the applicable laws and regulations.
USE OF THIRD PARTIES :
We contract with third parties to serve ads on our behalf across the Internet and sometimes on this site. They may collect information about your visits to our website, and your interaction with our products and services. They may also use information about your visits to this and other websites to target advertisements for goods and services. Such third parties are not permitted to sell or share your personally identifiable information as part of this process.
Third party vendors, including Google, use cookies to serve ads based on a user's prior visits to your website.
THE USE OF COOKIES AND COOKIE POLICY:
A cookie is a piece of information which a website transfers to the cookie file of the browser on your computer. The browser saves the information and sends it back to the website server whenever the browser returns to the website.
A cookie will typically contain the name of the domain (internet location) from which the cookie has come, the "lifetime" of the cookie (i.e. when does it expire), and a value, usually a randomly generated unique number.
Cookies can help websites to arrange content to match your preferred interests more quickly and are used by many major websites.
When you shop through our website, a persistent cookie is placed on your computer. This enables us to track any purchases you do with our participating retailers and reward cashback / points to you. If you do not have such persistent cookies enabled on your computer you will not be able to earn cashback / points on your online shopping via our website
There are a number of ways to manage cookies. If you use different computers in different locations you will need to ensure that each browser is adjusted to suit your cookie preferences.
You can easily delete any cookies that have been installed in the cookie folder of your browser.